ZHANG HITS FORM AS DONG DELIVERS FINE DEBUT
http://sports.sina.com.cn 2007年05月31日19:00
新浪体育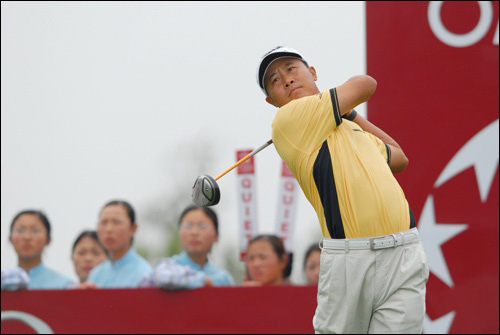 China's golfing hero Zhang Lianwei will celebrate his 42nd birthday tomorrow in a share of the lead in the Qingdao Leg of the Omega China Tour.
  He fired a first round one-under-par 71 today at Qingdao Huashan Golf Club along with Yuan Hao, Yang Wenzhang, Liu Junfeng, and Zhang Wei, while Dong Caihong, the first woman to compete on the circuit, conquered her nerves and returned a respectable 78.
  Zhang finished second in the season-opening event in Nanjing two weeks ago and looks determined to finish one place higher this week in the US$100,000 tournament.
  "Finishing second in the Sofitel Golf Championship was an acceptable finish but I never stop trying to improve and get better," said the steely competitor, who won the Omega Order of Merit title last year following two victories.
  "The course this week is way different from most we play. It is not a big hitters' course. The rough is long and there always seems to be a strong breeze. It's good for all of us to learn how to play this kind of course. It suits me well," added Zhang, whose low trajectory shots are tailor made for the course.
  Dong has worked at the club for the past 10 years and helped by a bit of local knowledge she outplayed many of her male counterparts to make it a memorable day.
  She looked set to finish with a much better score but bogeyed both 17 and 18. The poor finish combined with a double-bogey six on the first, where nerves got the better of her and she three putted, did not seem to dampen her spirits.
  "I reached my expectations. I have been shooting 77 or 78 regularly in practice so I was quite pleased to repeat that today but I think I'll need to shoot a 75 or 76 in the second round to make the cut," said the 27 year old.
  "It was a different feeling playing today - there was a lot of pressure. I was very nervous on the first hole and my hands were shaking on the green when I was putting. There was a big crowd on the first tee, lots of officials and friends. During the practice round someone advised me not to look up at anyone on the first tee, and that really helped," added Dong.
  Dong was paired with Wu Kangchun, winner of the Sofitel Golf Championship, and another top player Shang Lei. Despite lacking the distance of her playing partners - she hits her driver 230 yards on average - she was by no means outplayed as Wu shot 75 and Shang returned 72.
  Yuan, arguably the biggest hitter on the Tour, birdied 16 and 17 late in the day to join the leaders. He was joint third round leader in Nanjing along with Wu, before finishing outright third.
  Li Chao, who claimed the Merit list title in 2005 when the Tour was inaugurated, was one of six players who shot 72.