OMEGA CHINA TOUR WELCOMES LEADING LADY
http://sports.sina.com.cn 2007年05月30日22:37
新浪体育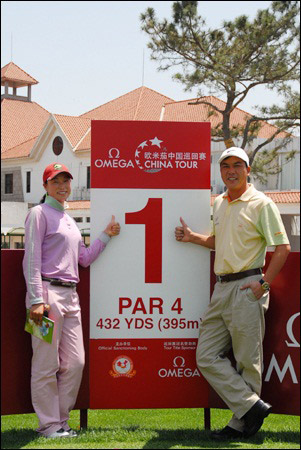 China's Dong Caihong will complete a remarkable golfing journey this week when she becomes the first female to play on the Omega China Tour.
  Dong tees-off on Thursday in the Qingdao Leg of the Tour at Qingdao Huashan Golf Club, where reigning Order of Merit champion Zhang Lianwei and Wu Kangchun, winner of the season-opening event, are also competing.
  The venue is Dong's home club and it was where ten years ago she played her first golf hole. She was a caddie and recalls how she sneaked out to have a quick hit on the par-three 14th but returned a considerable time later having taken 34 shots.
  Despite her inauspicious start to the game Dong quickly rose up through the ranks playing in amateur events across the region as well as competing on the Korean LPGA Tour in 2005. She is now a full-time coach at the club.
  "Two weeks ago, after the first event on the Omega China Tour, I heard I would be invited to play here. I stopped coaching immediately and have been playing 18 holes each morning and practicing in the afternoons," said Dong.
  The talented golfer has been paired in the first two rounds with Wu, the up-and-coming rookie who won the Sofitel Golf Championship two weeks ago.
  Although Dong has not been paired with her idol Zhang she joined him in Wednesday's press conference looking shy, but composed, and dressed in eye-catching pink apparel.
  "I am a little bit nervous. It will be very difficult this week as the guys shoot it so far. I am just aiming to make the cut," added Dong.
  Zhang is delighted to see the Tour welcome its first female competitor.
  He said: "I don't know her very well but I understand it's her home course so that will be a big advantage to her as it is a difficult layout. The rough is thick and when the wind blows course management will be very important. I really wish her the best of luck. It's great to see her playing here and see so many more ladies in China playing golf."
  The Tour's other top players Li Chao, Huang Mingjie, and Yuan Hao will also compete in the US$100,000 event, which offers a first place cheque of US$19,470.
  They are all expected to be in the hunt on Sunday but when the first round tees-off the focus of attention will be on local favourite Dong who joins an elite group of ladies who have played in men's Tour events such as Michelle Wie, Annika Sorenstam, Pak Se-ri, Laura Davies and Ai Miyazato.
  Wie made the cut and finished 34th at the SK Telecom Open in Korea on the Asian Tour last year and has played in more than a dozen male events.
  Dong would dearly love to play all four rounds but is aware that by simply competing she has achieved so much for women's golf in China. She will also be able to banish the memory of the 34 shots she took on the 14th in 1997, which this year measures 170 yards.