The players concern about earthquake victims
http://sports.sina.com.cn 2008年05月15日10:25 新浪体育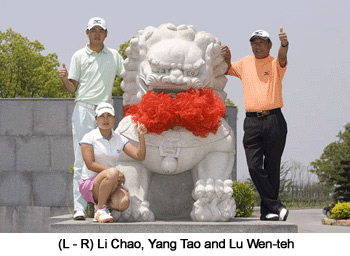 新浪体育讯 Omega China Tour players voiced their concern for the victims of Monday's tragic earthquake in Sichuan province ahead of this week's Shanghai Championship, which tees off on Thursday.
  Li Chao, the event's defending champion, showed impressive composure to speak on behalf of the Tour's players at a press conference.
  "On behalf of all the players, I'd like to express my concern and send my sympathies to all those affected by the earthquake," said the 28-year-old, the Tour's most successful player with eight victories and two Omega Order of Merit titles.
  "On Monday, a friend sent me a message about the earthquake and I then saw it all on the news when I got back to the hotel. I was so worried about all the people and the suffering. So many people have lost family and friends. I just want to send our best and hope they can all get through this terrible time."
  Chengdu-born Yang Taoli was set to make headlines this week as only the second woman, and first female professional, to compete on the Tour. Instead, her mind is with her family and friends in her native Sichuan province.
  The 24-year-old lives with her parents and elder sister's family in Du Jiang Yan, a small city northwest of Chengdu and close to the earthquake's epicentre. Yang's family have been living in a tent since their family home was damaged in the earthquake.
  "I'm very sad about this as my home is close to many damaged areas," she said. "Many schools in the town have been destroyed, so many children have died. When I finish the tournament, I will go straight home to see my family."
  Chinese Taipei star Lu Wen-teh, who became the Tour's first non-mainland winner at last month's Kunming Championship, added his voice to those expressing their concern.