Yang's Tour debut marred by Sichuan tragedy
http://sports.sina.com.cn 2008年05月15日09:45 新浪体育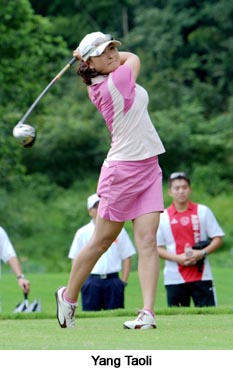 新浪体育讯 Chengdu-born Yang Taoli will become only the second woman, and the first female professional, to compete on the Omega China Tour when she tees off in this week's Shanghai Championship, which starts on Thursday at the Orient (Shanghai) Golf and Country Club.
  However, in light of Monday's tragic earthquake in her native Sichuan province, the 24-year-old has had a stressful lead-up to the tournament.
  "I was calling my family all yesterday afternoon and evening, but I only got through to my father on his mobile phone at midnight," Yang said.
  "My dad told me that the whole family is now living in a tent because the house has cracks in it. It isn't safe to stay in our house right now."
  Yang lives with her parents and elder sister's family in Du Jiang Yan, a small city northwest of Chengdu and close to the earthquake's epicentre.
  "I left home last week to play in this tournament," she said. "If I had decided to fly on Monday evening, I would still have been in Chengdu when the earthquake happened."
  As if she didn't have enough on her mind, Yang will compete in Shanghai against the likes of Li Chao, the defending champion and two-time Omega Order of Merit winner, and Chinese Taipei star Lu Wen-teh, who became the Tour's first non-mainland winner at last month's Kunming Championship.
  Further strengthening the field are Asian Tour players Shang Lei and Alex Wu Ashun, as well as Hsu Mong-nan, joint runner-up in the season-opening Guangzhou Championship and the second invite from Chinese Taipei.
  Yang, who only turned pro at the beginning of last year, is competing in the RMB800,000 event at the invitation of the host venue, having signed with the Orient Golf Group last October.